Top 10 Concealed Carry Guns
Lots of people will give you their list of top 10 weapons in any category, but lists like these are largely subjective.  What one person considers the best conceal weapon of all time might sound like a ridiculous option to another.  But that's the beauty of firearms:  To each their own.  A small framed female might feel comfortable keeping a Kel-Tec P32 in a holstered handbag, while a 6'4″ guy might keep a full-size hi-cap Springfield .45 on hand, but who's to say little miss diminutive isn't packing a Raging Judge?  It happens, I assure you.
That being said, we have a unique perspective in that we sell these guns, so we can see who is buying what.  This list is of the top 10 concealed carry guns that regular, everyday people are actually buying.  There's probably some manufacturer in New Zealand that no one's ever heard of that makes an incredible pistol for $3000 that's contoured to your body or something like that, but that doesn't help the average person.
Now, in order to prevent this list from becoming a Top 10 Guns Ever list, we'll have to instill some restrictions.  For the purposes of our list, a concealed carry gun will have to include the following:
With this criteria in mind, here are the Top 10 Selling Concealed Carry Handguns at BudsGunShop.com for 2012.
1.  Ruger LCP
This one is a no-brainer.  Since its introduction in 2008, the Ruger "Lightweight Carry Pistol" has been one of the most popular ultra-light subcompacts ever.   At a scant 9.4 oz., it barely weighs half a pound and its slim profile and rounded edges allow it to slide in and out of your holster or pocket with ease.  It carries six rounds of .380 ACP ammo and with a bevy of accessories available, it's easy to make one as comfortable as any full-size.  Comfortable, compact, and most important of all, reliable, there's a reason this gun tops the list.  Some might argue that a .380 doesn't pack enough punch to stop an attacker, but regardless of your caliber, no one wants to be shot with any gun.  Don't believe me?  Then here, stand in front of my little Derringer real quick.  No?  Didn't think so.
Caliber: .380 ACP
Barrel Length: 2.75″
Weight: 9.4 oz.
Capacity: 6 (+ 1)
2.  Hi-Point C9
The Hi-Point C9 9mm is on here for one huge, glaring reason — price.  But make no mistake, Hi-Point is about as reliable as they come.  While more bulky and heavy than the LCP, the C9 boasts two extra rounds in the magazine versus the LCP, a more powerful load in the 9mm and a dummyproof design.  (Every manufacturer and gun nut will tell you to clean your gun on a regular basis, Hi-Point actually discourages disassembling their firearms for cleaning and recommends simply swabbing and oiling the gun periodically.  How's that for simple?)  At this price it's easy to assume a product is cheap, but the reality is that we just don't get complaints on Hi-Points.  Hi-Point uses all polymer construction for their frame and slide, which greatly reduces manufacturing costs, and they focus on reliable performance over aesthetics.  So, even though it might look more beast than beauty, it's easy to see why so many people opt for the inexpensive and dependable Hi-Point C9.  Oh, and all Hi-Points include a free gun lock.  There, you just saved another $10.
Caliber: 9mm 
Barrel Length: 3.5″
Weight: 29 oz.
Capacity: 8 (+ 1)
3.  Ruger LC9
The Ruger LC9 is the big brother to the LCP.  It's slightly more robust in each dimension, which is necessary to handle the more robust caliber, 9mm.  Beyond the size differential, the LC9 features a manual thumb safety to lock the gun from firing whereas the LCP lacks a safety.  The safety can act as an added safeguard to prevent an accidental discharge of your firearm, but the LCP's lack of safety can be seen as one less barrier to discharge your firearm in a stressful situation, ideal for a concealed carry gun that you might need to pull out and shoot at any given moment.  Eventually, it comes down to the preference of the individual carrier.  Each gun does have a "loaded chamber indicator" on top of the slide to let you know when a round is chambered.  In addition to being a smidge bigger, the LC9 houses one more round than its little brother.  The LC9 and the LCP are perfect examples of the trade-offs necessary when trying to satisfy a particular need; if you want the smallest and lightest, you're going to compromise on caliber and capacity, but if you want a higher caliber and capacity, you're going to have to compromise on size and weight.  Though, the landscape is rapidly changing.
Caliber: 9mm 
Barrel Length: 3.12″
Weight: 17.1 oz.
Capacity: 7 (+ 1)
4.  S&W 642
The first revolver on our list, the Smith & Wesson 642 Airweight .38 Special is a tried and true name with an unparalleled reputation.  Chances are if you've never touched a gun in your life, you still know the Smith & Wesson name.  The revolver design dates back almost 200 years ago and there's a reason it's still popular today.  Unlike a semi-automatic pistol that has a detachable magazine requiring an initial chamber action prior to firing, a revolver needs only to have the swing-out cylinder loaded, closed, and fired.  This isn't necessarily an obstacle to anyone familiar with the operation of firearms, but for someone that wants the utmost ease of use in their gun with the fewest amount of parts, a double action revolver can be ideal.  Couple that with the light weight and compact size of the 642 and you have a natural for the #4 spot on our list.  Smith & Wesson is based in Massachusetts, who really needs to lighten up.
Caliber: .38 Special 
Barrel Length: 1.875″
Weight: 15 oz.
Capacity: 5

5.  Kahr CW9
The Kahr Arms CW9 is a 9mm semi-auto compact pistol also known for it's flawless function and reliability.  Kahr is part of the Magnum Research family, makers of the coolest guns movie bad guys are notorious for, but also famous for their dependable function.  The CW9 shares many similarities to the Ruger LC9 in terms of size and functionality, the most notable difference being the lack of thumb safety on the CW9.  The CW9 is one of the more modestly priced Kahr pistols on the market today.  The fact that they were able to achieve such an attractive price point and maintain the Kahr name makes this a very attractive buy.  Kahr is also made in Massachusetts.  For a state that doesn't care for handguns, it's ironic so many are made there.
Caliber: 9mm 
Barrel Length: 3.5″
Weight: 15.8 oz.
Capacity: 7 (+1)
6.  Kel-Tec PF9
Kel-Tec has a reputation for churning out some of the most innovative products in the market, but it's not just limited to the elusive or hard to get.  The ultra compact PF9 9mm is the smaller and lighter successor to the "smallest and lightest 9mm ever made," the P11 (see no. 9 on the list).  The validity of that claim on either of these pistols is objectionable now, but the truth remains that the PF9 is an undoubtedly small pistol that packs a punch.  Its polymer frame provides a light package while the finger extension allows for a much more natural grip.  Kel-Tec makes some very accurate pistols, which is great to know when your life might depend on each shot.  You can find the PF9 in a bevy of different color combinations, but black on black is by far the most popular.  I guess black is the new black.
Caliber: 9mm 
Barrel Length: 3″
Weight: 12.7 oz.
Capacity: 7 (+1)
Bersa is an Argentinian manufacturer and, in comparison with the competition on this list, little known.  But don't let their relative obscurity fool you, they make some of the most dependable firearms available.  In fact, while we receive very few complaints from our customers over Hi-Points, Bersa is by far, hands down, the most uncomplained about brand of guns we carry out of any style.  (Is uncomplained a word?)  People who buy a Bersa are satisfied, pure and simple, and in the end, isn't that what it's all about?  I personally carry a Bersa as my concealed carry weapon of choice.  And whether or not you've heard of them prior to now, it's obvious they are popular enough to earn the #7 spot on our list.  The Thunder is Bersa's most popular series of firearm and the 380 is the best selling model.  With such a well performing machine at such a modest price, there's no doubt why.  The Thunder 380 has an aluminum frame, a fixed barrel, and is DA/SA with a long initial trigger pull for added security.  Thunder was also my favorite American Gladiator.
Caliber: .380 ACP 
Barrel Length: 3.5″
Weight: 23 oz.
Capacity: 7 (+1)
8.  Kahr CM9
The Kahr CM9 is the little brother to #5 on our list, the CW9.  Boasting the same reliable structure as it's brethren, the CM9 shaves just a little bit of real estate off in each direction creating a smaller, more pocket friendly package.  In turn, the CM9 loses magazine space, bringing it capacity from 7 to 6.  But no matter what you're looking for, Kahr has a solution for your need.  And have fun gauging the confusion on people's face when you say your weapon of choice is a "Car."
Caliber: 9mm 
Barrel Length: 3″
Weight: 14 oz.
Capacity: 6 (+1)
9.  Kel-Tec P11
The Kel-Tec P11 is an oldie but a goodie.  The predecessor to the PF9, the P11 was once the king of its kind, like many guns are at the time of their creation.  The P11 touts many of the same features as the PF9, such as its caliber and polymer construction, but increases its capacity by 40% at 10 rounds, which makes it much nicer when practicing at the range.  The P11 is a great way to get the most ammunition in as small a package as possible while still having an accurate fire and stable function, one of the best bangs for your buck.  Where have I heard that line before?
Caliber: 9mm 
Barrel Length: 3.1″
Weight: 14 oz.
Capacity: 10 (+1)
10.  Ruger LCR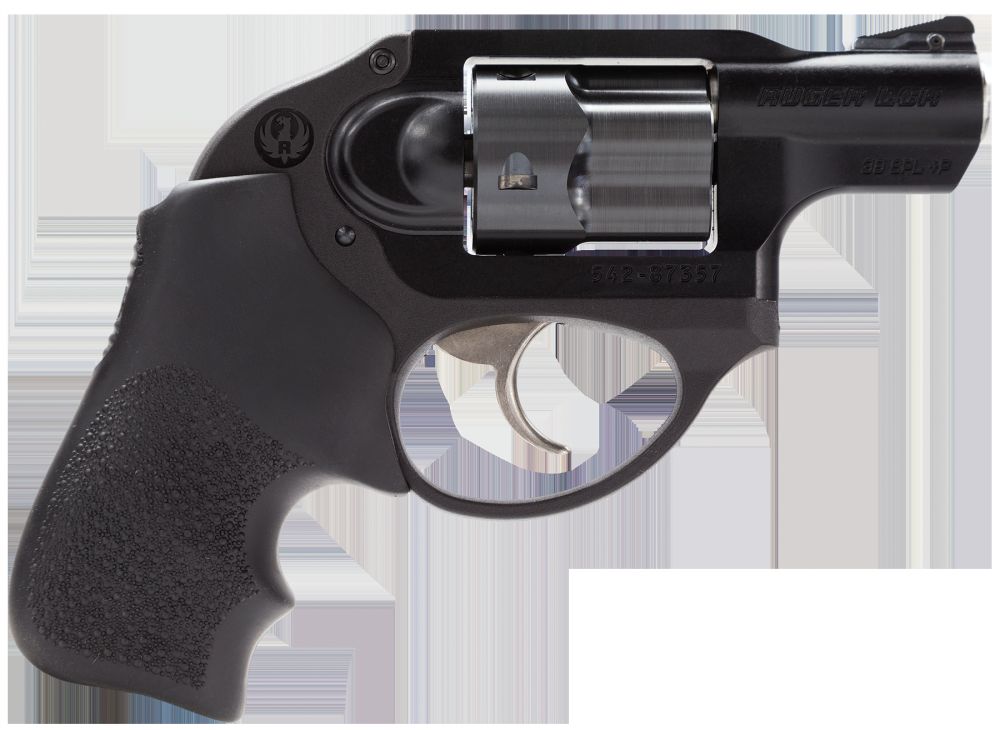 Ruger rounds out its trifecta with the LCR, a lightweight, reliable and easy to use revolver in the .38 caliber.  You're going to find a lot of similarities between the S&W 642 from earlier, most notably the double action, internal hammer, 5 round cylinder and +P rating for ammunition.  If you prefer the small revolver, it really just comes down to personal preference between these two.  But the most amazing characteristic the two revolvers share?  They're both legal in California, New York, and Massachusetts.  That's like finding a leprechaun riding a unicorn over a rainbow.
Caliber: .38 Special 
Barrel Length: 1.875″
Weight: 13 oz.
Capacity: 5
Runners-Up:
Taurus 738 TCP, S&W BODYGUARD 38, Glock 26, S&W 442, Walther PPS
Just to reiterate, this is not a subjective list of firearms based on preference.  These are the most popular concealed carry firearms we have at this time.  New guns come out all the time, like the S&W SHIELD or the Springfield XDS, and while they may be great guns, sometimes they can be hard to find and it's difficult to defend yourself from an attacker if your gun is on back order from the manufacturer.  There are lots of other guns that other people carry and most of them are great weapons (how many Glock owners are surprised it's not on the list?), but that's the beauty of firearms.  What do you carry?
Disclaimer: Articles in this blog may not be written by BGS Staff and the opinions expressed in the articles are not that of BudsGunShop, LLC. They are meant to be for informative entertaining articles.